1) Block Breaker 4.21
Block Breaker is an arcade game to break blocks.

2) Superstar Chefs 1.29
Superstar Chefs is a platform game similar to Mario Brothers or Bubble Bobble. The goal is to grab all the fruit, while avoiding the comical baddies.

3) PocketMan 0.1
The PocketMan is a Pocket PC-compatible remake of the 1980s classic Pac-Man arcade game. It now has a modern look and adjustable gameplay.

4) Plasticine Racing 2.0
Plasticine Racing is a racing game on tracks by plasticine cars! A lot of effects, interesting plasticine graphics and tracks of different complexity level won't leave indifferent even a most sophisticated racer! Well, shall we emulate?

5) Deer Drive 1.5
Bring all the ammo you can get your hands on, because open season just arrived - big time! Deer Drive is an arcade-style 3D deer hunting game. How fast is your aim? It's just pure shooting action, as herds of deer are driven into your sights!

6) Rooney on the Rampage 1.0
Rooney dreams of what could of happened in the World Cup in this hilarious outbreak of rampaging headbutting - "Zidane" style! Help Rooney get his sweet revenge on Ronaldo by Zidbutting his way to the ultimate goal, taking no prisoners friend or foe!

7) Boulder Crash 1.0
This game is remake of famous games Boulder Dash and Digger. You have to collect diamonds and escape monsters. When you collect all diamonds - you enter next level.

8) Mega Mario - a free mario game 1.5
Mega Mario - Super Mario brothers 1 remake. Similar to Mario Forever! Mega mario is a free mario game remake. Play with your favorite plumber luigi and go on many great adventures with this fun super mario brothers remake

9) FloorCOST Estimator for Excel 2.1
Flooring Installation Cost Estimator for Excel. Designed for flooring contractors, decorators, builders, remodelers, and do-it-yourself individuals. Contains cost data and intelligent takeoff area calculator. Automatically creates price quotation.

10) Global Pets 2002 1.0
In Global Pets your goal is to take care of your virtual pet, feed it, play with it, and watch it grow. You must keep it alive, and put it to bed, just as you would a real pet... It is very exciting to watch a pet grow up! Even store your pet online!

11) Critical Mass Deluxe 1.5
Perhaps the most addictive puzzle game ever made. Part puzzle game and part action game and three modes of game play with over 90 levels, will keep you clicking. A never ending quest to reach Critical Mass, and reduce the Atoms to Dust.


12) Fantasy Submarine Game 3.1
The game Fantasy Submarine Game presents a breathtaking variety of submarine games! It's been years that the underwater monster gives no rest to people. You and your submarine are the stronghold for the whole humankind. Go ahead, brave captain!

13) Submarines for Mac 1.3
You're the captain of a ship moving through a mine field. Use your depth charges to destroy the enemy subs laying those mines before one blows a hole in your hull. Watch out for the sea creatures. Some can help but others just get in the way.

14) The Treasures of India 3.2
The Treasures of India is new addictive puzzle game similar to Zuma and Luxor. The rules is simple - shoot ferocious Jewels in combination to make sets of three, but don't let them reach the bottom!

15) MostFun Legend of Aladdin - Free Unlimited Play Version 1
Go on an exotic trip through the lands of Aladdin in this adventurous icon matching game.

16) Snake.bizPla.net 1.0
Snake.bizPla.net is the classic snake game for the Pocket PC platform. Control the snake to eat apples while avoiding to hit the wall and itself.

17) Animated Coloring 1.0
A coloring book program that uses sound and silly animation. The child can choose from over 1000 colors or have the program pick a color for them each time they color.

18) PocketMan2 1.0
Pocket PC-compatible remake of the 1980s classic Pac-Man arcade game. It now has a modern look and adjustable gameplay.

19) 21 Aeroplane Games 3.0
"Fight enemies before they have a chance to attack in 21 different Aeroplane Games"

20) MostFun Magic Ball 3 - Free Unlimited Play Version 2
Featuring a stunning degree of visual detail and as much madcap fun as we could cram into one release, Magic Ball 3 has changed Breakout games forever. So take a deep breath and then download the adventure of a lifetime!

21) Bubble Bobble Quest 1.7
Bubble Bobble Quest is a brand new remake of the popular classic game "Bubble Bobble". The main heroes are two little dragons named Bub and Bob.

22) StarChaser 1.0B
Arcade-style mini-game where your task is to collect stars and power-ups while avoiding rocks as they tumble down the screen. Don't be fooled by it's small download size - includes colorful animated graphics, multi-channel sound and digital music.

23) Raptor - Call of the Shadows 3.24b
One of the BEST PC shooters yet! A fast paced slugfest, with a pulse-pounding sound track, and jaw-dropping VGA animation & cinematics. In the future as a mercenary flying the super-tech Raptor.

24) MostFun Key Words - Free Unlimited Play Version 1
Create words from moving letters in this jungle-themed word game.

25) LavaLeaper 1.0B
Arcade-style mini-game where your task is to leap your way up the moving platforms while avoiding the rising lava. Difficulty increases in later stages, so use the checkpoints to mark your progress and search for shortcuts. Don't be fooled by it's small download size - includes colorful animated graphics, multi-channel sound and digital music.

26) BreadieQuest:Halloween III 3.1
Halloween Party has started! Breadie is invited. Help him to get there! But the Party is full of sudden tricks and he must challenge himself in the dangerous fight with all his fears. Are you ready to overcome your frights and start on adventure?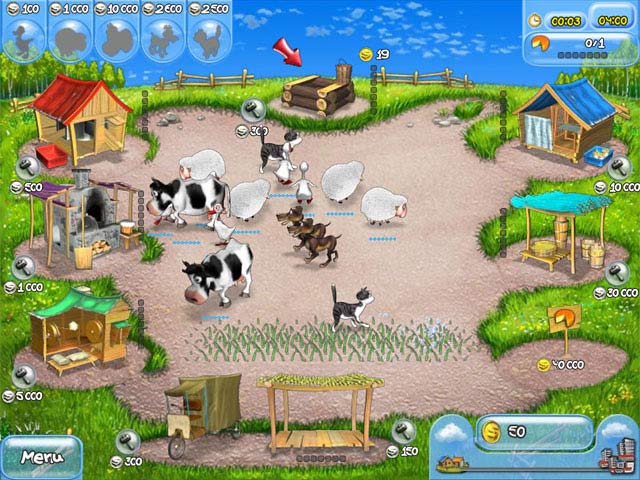 27) Farm Frenzy 1.1
Slip into a pair of overalls and try your hand at running a farm! From tending to the fields where your cows graze to gathering eggs for sale at the town market, Farm Frenzy lets you give Old MacDonald a run for the money!

28) Air Invasion 3.2
Take a role of a commando in the game Air Invasion. Your task is to defend a military base situated on the island of MyPlayCity. The base is attacked by the air forces of the enemy. The enemy troops are landed periodically.

29) Montezooma 2.1.002
jump and run arcade game. montezooma, an ancient inka-chief, is looking for a garden of happiness. your purpose is to help him to reach his aim and to do away with the numerous monsters happening on his way. here about 40 levels of the game.

30) Colobloks 1.0
ColoBloks - is a fun arcade game with nice graphics and sounds. In this game vertical rows composed of three different blocks will falls from the top of the screen. Your goal is to put together at one verteical, horizontal or diagonal line.