1) Atomic Cannon Pocket 2.5
The ultimate artillery duel with 85 weapons of mass destruction! You'll have great fun waging war on 25 deformable scenic landscapes. Enjoy the real time smoke trails and fully customizable weapon economy with up to 16 players.

2) Civilization III Conquests
Civilization fans will be impressed with Civilization III: Conquests.

3) Ai Picture Explorer 7.2.1.7031
All-in-One Graphics Viewer, Player, File Manager, Explorer, Batch Image Processor, Editor, Converter, Album + Organizer, Batch Unzipper, Multimedia Slide Show Editor, Duplicate Finder, Web Page Generator + HTML Cataloger

4) Master of Orion III
In Master of Orion 3 the sequel to one of the best-loved strategy games you become the controlling force behind an entire galactic civilization.

5) Swarm Assault Deluxe 1.4
Swarm Assault is a real time strategy game that requires you to control huge swarms of ants, beetles, spiders, scorpions and wasps in a desperate attempt to control the landscape.

6) Cake Mania 1.0
Let's get cookin' as you help Jill upgrade her kitchen with state-of-the-art baking tools, while serving her ever-increasingly difficult customers!

7) Pocket Tanks 1.0
Pocket Tanks is an artillery game that is streamlined to be easy to learn and fun for all ages. Select your angle, power, and fire over 30 distinct weapons at your opponent. Games are won based on points for good aiming and is lighthearted fun.

8) War Leaders 1.5
This is a hot-seat multiplayer strategy game (2-4 players).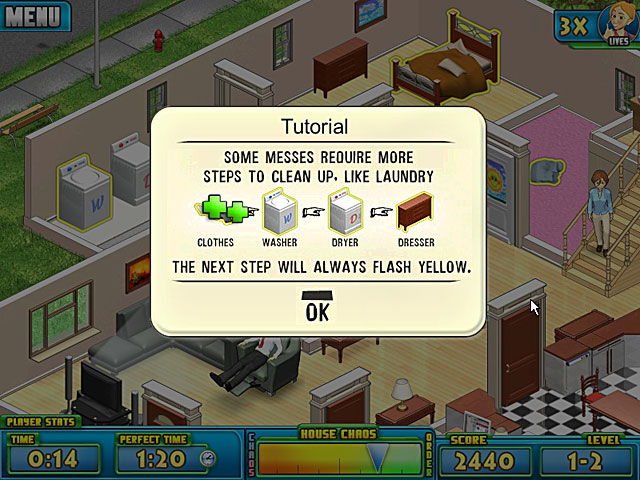 9) Nanny Mania 1.0
Be the perfect Nanny! Four Kids and two parents will keep you hopping for hours and hours as you manage your time for the perfect score!

10) Internet Backgammon 1.02
This is a two-player Backgammon game, no human-against-computer mode. No separate server is required - the game is independent. The game includes a help file suitable for players new to Backgammon and experienced players alike.

11) Astral Masters 1.1
Astral Masters combines the best features of its predecessor, Astral Tournament, and collection card games. Compete in turn-based play against an opponent casting various spells and summoning fantastic creatures to your side.

12) Free Strategy Games - Gangster Chaser 1
Chasing gangsters has just turned into a strategic game. Though it may firstly seem simple, you could not be further from the truth. You think you have the stuff for the truly smart sheriff? Prove it!

13) Close Combat III: The Russian Front
The latest game in the award-winning Close Combat series.

14) Chinese Checkers Master 1.0
Chinese Checkers Master brings classic chinese checkers to life on your computer. Play with up to five friends, or choose to play with intelligent computer opponents.

15) Free Shooting Games - Tomahawk Radar Defense Game 1
Tomahawk defense game is all about protecting your city from enemy long rage nuclear rockets. Use your radar to track them down and launch a Tomahawk guided missile to neutralize those enemy projectiles.

16) Supernova: Galactic Wars (MAC) 1.1.2
Supernova combines chess with shoot'em up. Choose your side: the evil Red Legion or the mystic Blue Army? Every side has 10 unique ships, each ship has up to 3 different types of fire for a total of 26 different weapons!

17) Galactic Battle 1.2
Master a classic turn based strategy game. Fight a war against a galaxy of aliens, build a colony in space, and make your ships fly through the orion nebula. Create an empire of countless planets, explore unknown space, and expand your borders.

18) Pax Galaxia 1.13.5
Pax Galaxia is an addictive real time strategy game, based on the board game Risk. You will be amazed at the strategic depth of this game, even if it is very easy to learn and play. Multiplayer modes are available (online or not).

19) Galacticards (MAC OSX 10.3+) 1.00
Galacticards is the new Addictive Card Based Space Strategy Game of Exploraiton and Expansion.

20) Deep Green Reversi 4.7.3
The classic board game Reversi, also known as Othello, is easy to learn yet difficult to master. Trap your opponent's game pieces between yours to win. 3D animated graphics, sound, Net support and much more.


21) Absolute Evil 2.0
A long time ago, when magic was a common thing, people were not the only sentient beings on the Earth. There were also trolls, goblins, elves and more. Every so often, wars between the races broke out. And chaos reigned..

22) Reversi Deluxe 1.0
Tired after your everyday routine? Try Reversi Deluxe, which is a new board game, enabling you to reveal your intelligence, logic and intuition beating your companion at different difficulty levels and 4 game modes with a dynamic rating system.

23) Modem Spy 3.4
Modem spy records all phone calls, records from microphone, plays back recorded mesages via phone line or sound card. Has built-in software automatic gain control. Detects and logs Caller ID

24) Sudoku Studio 1.3
Sudoku Studio will let you enter your own Sudoku puzzle, or it can generate a new one for you at various levels of difficulty. Then race against time or your friends to solve the puzzle and get a high score. Sudoku Studio can solve any Sudoku puzzle.

25) Twilight Mahjongg 5.3.8
Set in a futuristic sci-fi world you can play the classic mahjongg rules or one of many new variants including two player competitive modes or Space Mahjongg.

26) Handball Manager 1.9.1
You are the manager and coach of a handball club of your choice. Make the right decisions to win the championships. Keep an eye on the transfer market and your financial situation.

27) 1941 Operation Typhoon 1.0g
A great turn based wargame covering Operation Typhoon in late 1941. Replay the German unsuccessfull attempt to capture Moscow, followed by the Russian counter-offensive that denied the German any chance to conclude the eastern war that year.

28) Fairy Godmother Tycoon 1.0
It's supply and demand, fairytale style! Build your potion empire and climb the ranks in Fairy Godmother's operations on your way to making a fortune!

29) Orbital Trader 1.00
Earn millions of billions in this detailed planetary trading game. To build your economic empire you'll have to choose the most profitable goods, take the quickest paths between the revolving planets and buy planetary structures at the right time.

30) Mars Soldiers-7 1.11
Original turn based strategy game.