1) Rocket Mania Deluxe Deluxe
Rocket Mania Deluxe!Twist and turn the fuses to link a burning match to one or more rockets, then watch the sparks fly! Upgrade your rockets for bigger bangs by collecting coins along the way. But watch out - set off your fireworks by da

2) Global Tetris 2.1
Global Tetris is a new original popular falling blocks puzzle game. It consists of five various tetris games: Classic Tetris, Pentix, Pentix 2, Diagonal Tetris, Global Tetris. It is really addicting game.

3) Polyphonic Ringtone Wizard 3.7
Stop 'paying per ringtone'. Add new ringtones, pictures and games to your polyphonic cell phone with the Polyphonic Wizard. Works with most makes and models of phone, no cables are required - just your PC, your phone and this software!


4) X98: X-Mess 1.2
The gameplay revolves around the linking of four or more similar object in any random pattern. The objects to be linked together fall from the top of the playfield to land on either the bottom or on other already placed objects in the playfield.

5) TetriBox (PalmOS) 1.0
TetriStation 2 is a pack of 18 different tetris-like games, with different blocks, grids, strategies and logic. This is a real tetris jukebox for yourHiRes device ! Some of the games are the all-time classics, some are completely new and untasted.

6) Classic Tetris 2.1
Classic Tetris is a very popular falling blocks puzzle game. A sequence of tetrominoes - shapes composed of four circle blocks each - fall down the playing field. There is new animated blocks and advanced scoring. Classic Tetris is addicting game.


7) Hangtris 5.1
Tetris game with mirror function, fast move and bombs. 12 levels free! This free version counts 12 levels returning forever. Advantages: more than 40 different shapes of blocks, use a mirror and turbo move.

8) TwinTrix 1.02
Twintrix is heavily inspired by the Atari ST classic Klatrix, which is a mixture between Klax (Atari's attempt to steal the puzzle game crown from Tetris) and Tetris itself. It's also similar to countless other puzzle games like Columns.

9) AG :: Abudefduf - EleFun Game 1.11
Animated Tetris will surprise you with interactive gameplay with Abudefduf.The Animated Tetris is a new game from Animated Game Series by Elefun Multimedia.

10) StudioLine Web Deluxe
StudioLine Web integrates all applications for creating, publishing and updating professional web sites in a single user interface

11) Valhalla Blocks 2.53
Valhalla Blocks is eight tetris like games in one package both for children and experienced tetris fans. You will enjoy great music and pleasant graphics . It also includes "head-to-head" mode and possibility to post your scores to the internet.

12) Collex Amanda 2.3
Collex Amanda is a Windows Puzzle / Arcade game. If you enjoy games like Breakthru, Tetris and Kye you'll like Collex. The object of the game is to navigate the green collector ball, "Your box", through a block based game field to collect pieces

13) 5star Audio Studio 4.0
Thousands of MP3s! Fast, free and legal! Come get the latest hits and all of your favorite songs with our softwar

14) Cutetrix 1.2
Loaded with color, and featuring smooth and user-friendly mouse control, Cutetrix is a bright, cheerful, and unbelievably addictive Tetris-like game. Cute pets from all walks of life have been kidnapped, and it's up to you to free them!

15) FirmTools Hexis 1.1
Free hexagonal tetris-like game with sound effects and flash interface. Special Boss key included (hides an active window anytime you press it)!

16) Recite Japanese Words 3.1
Language learning can be hard work. You need to study hard and practice a lot! However, the right tools, such as our new Recite Japanese words, it can make learning Japanese easier and a lot of FUN too! Our software will help you learn Japanese

17) Crazy Tetris 2.21
Crazy Tetris is unusual clone of the immortal Tetris game. In this game blocks consist not only from squares, but of triangles also. The object of the game is to maximize your score in placing the falling blocks or triangles into lines.

18) Tet XP 2.2
Destroy rows of blocks in this completely unique Tetris remake. Nine completely new game pieces with a larger playfield and unique game play. There are bonuses that can be formed the longer you last in the game. Pure fun with stunning effects!

19) Shakespeare and the Bible 1.0
A classic and inspirational collection of beautiful note and greeting cards for all occasions featuring quotes from Shakespeare and the Bible with paintings of nature. Cards are formatted and ready to print as needed. Inexpensive and easy-to-use.

20) Pentix 2.0
Pentix is a falling blocks puzzle game. It is a advanced version of Classic Tetris. New complex figures! Five blocks in each figure! You may do symmetric reflection of any figure! You may interchange of current and next figure! It's addicting game.

21) 7art Butterfly Paradise ScreenSaver 1.2
Butterflyes are obviously the most impressive and beautiful insects on the Earth. Colourful and delicate butterflyes are flying about from flower to flower enchanting us by their charm in fabulous Butterfly Paradise screensaver.

22) Photo Converter Deluxe
Photo Converter 2.0 is a user-friendly digital photo processing application that helps you to convert your photos. Support resizing, cropping, rotating, flipping, adjusting color and adding watermark, mask, border and shadow

23) Magic Tetcolor 3.4
Balanced tetris-style game with intuitive rules, midi player and skins. Rotate falling blocks to line up three or more of the same color. High scores are recorded, and an honor roll contains nice funny icons. Suitable for all ages.

24) CMC7 Font Deluxe
Barcodesoft MICR CMC-7 Premium Package empowers you to print cheque by yourself. It is able to encode alphanumeric data and five symbols.There are 4 fonts included in the package

25) Classical Block 3.00
Classical Tetris is designed for Tetris beginners and experts and even advanced experts. They alike would find many features that would increase their enjoyment of Tetris as well as improve their skill with the game.

26) Lode Doomer 1.8
This new game is a variety of usual Lode runner, but monsters in this game more cleveres than in the original.Good reflexes, sharp wit, playing skill are needed to help the hero.

27) Jungle Frenzy 2.0
Play with the marbles of the jungle in this addictive and thrilling action puzzler. This is Tetris with a huge twist. Forget about stacking blocks, this is all about pure jungle ball frenzy!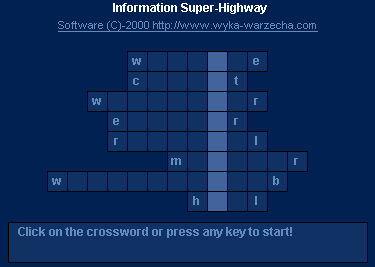 28) Aamazing KaaBlitz Crossword 1.0
KaaBlitz Crossword! is an exciting new product that allows you to easily add crossword games with special effects to your website! This product can increase the 'stickyness' of your website, i.e., customers will want to come back to your website ove