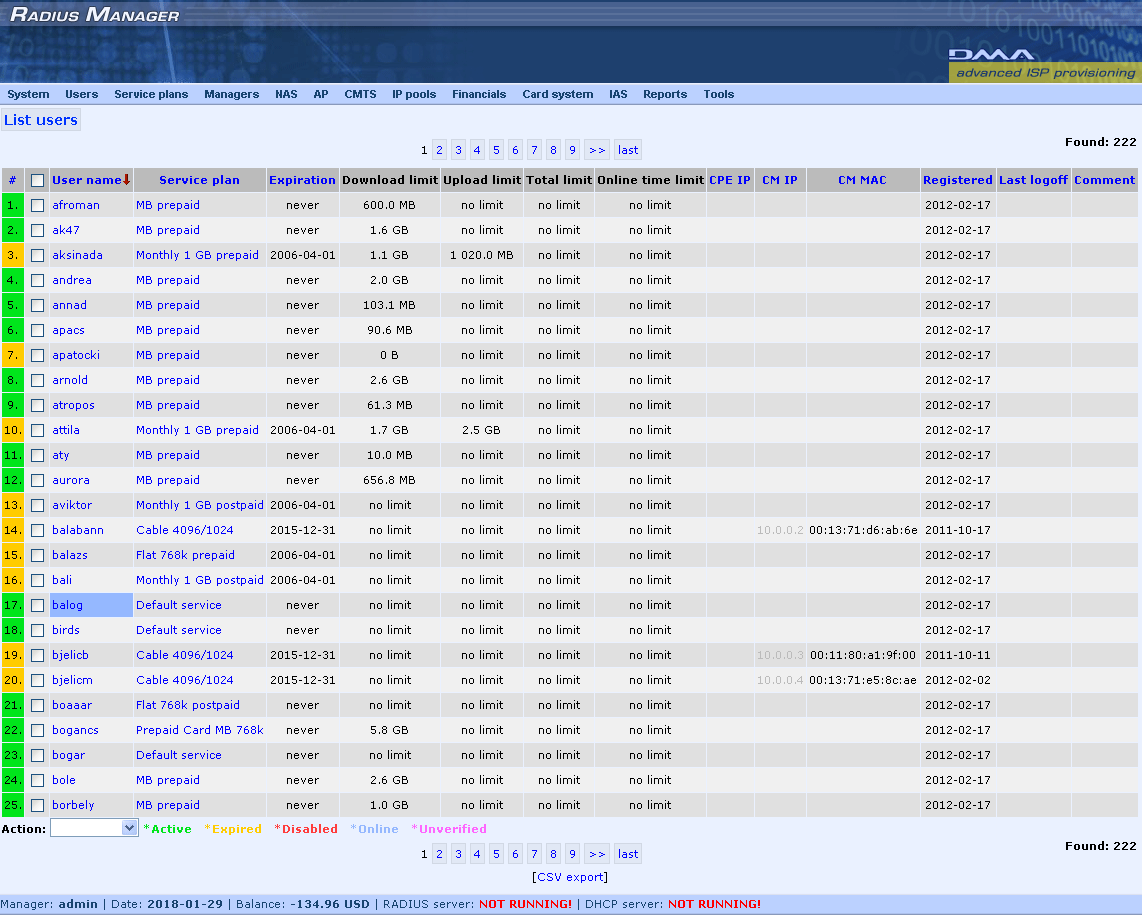 1) Radius Manager 3.2.0
Radius Manager is an easy to use web based administration and billing solution for Mikrotik, StarOS and ChilliSpot systems. It provides centralized authentication and accounting for multiple wired and wireless APs and NASes.

2) HTTPS tunnel client 2.2
HTTPS tunnel - better and easier than VPN. The Barracuda HTTP tunnel provides an easy and convenient method for remote use of Internet/Intranet software.

3) Turbo Internet Booster 2.1
Turbo Internet Booster is an application, which easily solves two of the most well known Internet problems: slow connection performances, undesirable disconnections. Also, the program includes other useful features.

4) Free Internet Phone 3.0
Globe7 is a free downloadable software integrated with Video phone, IM, & Real time video streaming, powered by online advertising. Globe7 enables you to make free calls from pc to pc, pc to mobile & pc to landline by watching videos in Globe7 TV.

5) VOIP Phone Buddy for SKYPE 2.0.21
VOIP Phone Buddy for Skype adds automatic telephone dialling to almost any windows application, using SKYPE and Jajah VOIP telephony, including Microsoft CRM, Microsoft, Access, Microsoft Outlook, Goldmine, ACT, other CRM and Accounts packages etc.

6) PhoneTray Dialup 2.25
Don't miss another call while online! PhoneTray Dialup will notify you when someone is calling while you're online. You can choose to take the call or ignore the call. Plus, this Caller ID software logs your incoming calls and blocks unwanted calls.

7) Pocket Connection Manager 3.01
With Pocket Connection Manager you can connect your cell phone to your Pocket PC and get online no matter where you are. Take advantage of new 3G high-speed data and GPRS networks to get your email and work online all over the world.

8) Phone Calls Filter 1.0
Call block for unwanted phone call with professional log. Are you bothered with unwanted phone call ? not anymore ! Set filters for incoming phone calls. Use categorized answering modes - such as: hanging up, personalized greetings etc... Try it now!

9) ChangeIP 1.1
One-click change of your network setting. It is useful in multiple networks. 1) Support multiple TCP/IP adapters. 2) Support static IP and DHCP. 3) Support IE proxy. 4) Not need to reboot system after IP is changed.

10) PC 2 Answering Machine - Professional Edition 2.0
'PC 2 Answering Machine 2.0 - Professional Edition' is a software designed for the personal computer which functions as an answering machine for home or office. Just connect your phone line, and turn your PC to a powerful Answering Machine.

11) WiNc 2.1
Winc automatically detects and connects to WiFi networks and stores personalized profiles so that users can automatically connect to their favorite networks without having to reconfigure their settings each time.

12) Softick PPP 3.02
Softick PPP allows your handheld to access LAN and WAN. Desktop PC is used as a gateway. Connection can be established over USB, Serial, IRDA or Bluetooth links

13) VPN Dialer 2007.08.02
Maintain persistent VPN connection using the built-in PPTP and L2TP/IPSec dial-up VPN facility included in Windows 2000, XP, and Vista.

14) RealSPEED Connection Speed-Up Utility 3.1
RealSPEED is a program empowering and speed up your internet connection sharply. It is optimizing the unknown settings and the registry of your operating system. Supports most of the connection types like Modem, Cable, ISDN, xDSL, Satellite, etc.

15) Traffic Counter 2.0.4
Traffic Counter is an easy-to-use tool to display and count network traffic of your computer. The traffic counter reports daily and monthly traffic. It allows you to set monthly traffic limit, alerts you when the amount of the traffic is used.

16) BySoft InternetPal 3.1.2.463
InternetPal is 32-bit win95/98/NT/2000/XP program for monitoring Internet connection. Automatically monitors calls and detects connection types. It runs in the system tray. Detailed information about the connections is stored into the log. Freeware!

17) Advanced Administrative Tools 5.92
AATools is a multithreaded network diagnostic toos for network administrators and security professionals. Its purpose is to accumulate data pertaining to network status and availability, using all of the latest development tools in network research.

18) Casper Bandwidth Monitor 1.1
Casper Bandwidth Monitor software is a utility that supports monitoring all of your network adapters at once. Be able to lock/unlock all open connections on your PC with one click.

19) Telnet Magic 2.4
Telnet Magic is a flexible, efficient and inexpensive telnet client application for connecting Windows PC users to IBM mainframe, AS/400, and UNIX systems via TCP/IP. Telnet Magic delivers 3270, 5250, VT100, VT220 and ANSI terminal emulation.

20) ConnectBuddy 1.02
ConnectBuddy is a free program that simulates Internet activity to prevent you from being disconnected from your Internet Service Provider (ISP).

21) Nexus Terminal 5.58
Nexus Terminal is a fast, flexible, inexpensive telnet client application for connecting Windows PC users to IBM mainframe, AS/400, and LINUX/UNIX systems via TCP/IP. Support for SSH, SSL and SFTP. Easy installation and setup.

22) Remote Dialer 4.0
Remote Dialer adds dialing capabilities to any application. It can also be used as a standalone dialer. When the Dialer is loaded it appears in the system tray. Highlight a phone number and copy it to the clipboard.

23) OnlineMonitor 3.10
OnlineMonitor is used to visualize and control the speed of internet connections. It displays the current download- and upload-speed graphically and/or numerically. It also logs the transfered amount of data for the connections.

24) NetGrid 4.1.6.0
With NetGrid you can monitor your upload and download bandwidth. With its common graphical and numeric output that hides in your system tray, it gives you an accurate display of your bandwidth usage.

25) Flexiblesoft Dialer XP PRO 5.2
Flexiblesoft Dialer is a Professional phone dialing system. Connect, Reconnect & Redial, and Disconnect from the Net easily, quickly, and even automatically.


26) Accelerate 4.0
Boost your internet connection without upgrading your hardware with Accelerate 2002. Get the maximum performance out of your modem!

27) SySpeed 2.1.01
SySpeed is a new generation Internet Accelerator. SySpeed modifies various "hidden" parameters in the Windows registry to increase the efficiency of your Internet connection and obtain the maximum possible amount of data throughput.

28) Stay Connected 4.01
Tired of being cut-off while downloading or writing an email? Stay Connected! can help solve all your disconnection problems. With multiple options to choose from, no matter how your ISP tries to disconnect you, you'll never be knocked off!

29) The RAS Logger System 3
The RAS Logger System is a logging system for RAS (Dial-Up & VPN) and printers. Using The RAS Logger System you can view and analyse your traffic (including number of bytes transmitted, date etc) and also how many pages were printed on your printer.

30) SudoKoach 1.2
SudoKoach makes solving Sudoku puzzles more fun