1) iMacros Web Automation and WebSite Testing 6.12
Automate web tasks like uploading, downloading, online marketing, click links and test websites. Browsing, form filling and data extraction can be recorded into an Internet macro. Supports all websites, including Flash, Java and Silverlight applets.

2) PaRameter 1.4
Google PageRank is one of the important ranking parameters. It shows how important the page is. With The PaRaMeter you can quickly check the PageRank of all your sites with just a single click, you don't need to open them in your browser one by one.

3) M6.Net PR Quick Check 1.00
The M6.Net PR Quick Check is a extremely easy to use, free Page Rank checker tool that allows you to check the PR of a page or a web site and compare it with the previous PR of the same page. A very useful tool for webmasters.

4) AzDGDatingLite 2.1.4
Free dating script working on PHP and MySQL. Multilanguage, Multitemplate, 35 registration fields, 3 photos, quick/simple search, feedback with webmaster, Admin maillist, Photo of the day, who is online, statistics, and more...

5) GSA Auto SoftSubmit 5.69
Submit your software to over 6000 software archives, directories and search engines. It will save you a lot of time and money since its fully automated. Promoting your software has never been easier. Load a PAD file and let the program do the rest.

6) Global Positioning Submitter 2.01
Global Positioning Submitter is a country specific foreign search engine submission software package. Developed to target search engines in a specific country, thereby facilitating the promotion of web sites.


7) Website Submitter 2.3
The easiest web semi-automated promotion tool. With our software you will never need to search for places to advertise again. Now you can quickly and safely promote your web site for traffic-driving results!

8) Metty Meta Tag Maker 1.31
Generates HTML meta tags, which can allow your web pages to be properly indexed by search engines.

9) Search Engine Commando 3.1
Build Traffic! SUBMIT your pages and KNOW where they rank in 400 of the world's top search engines. PROTECT your domain names with the new Domain Name Monitor. Search Engine Commando's proven technology will increase traffic to your web site.

10) Froogle Feeder 2.6
FroogleFeeder is a Windows tool to create, verify & submit Froogle datafeeds easily. Based on a wizard user-interface, it allows you to: - Add products quickly - Verify your information - Convert into Froogle's format - Submit to Froogle

11) A1 Sitemap Generator 1.7.4
Create text, HTML, RSS and XML sitemaps (Yahoo, Google etc.) for your website. Rich template support for HTML sitemaps. Supports splitting and compressing XML sitemaps. Near-endless scanning options. View reports on broken and redirected links.

12) Glary Utilities 4.0
Glary Utilities is a collection of system tools and utilities to fix, speed up, maintain and protect your PC

13) Blog Blaster 1.4
Blog Blaster is an automated tool to ping and submit your blogs to over 30 blog search engines with just one click. Pinging your blogs to the search engines is the fastest way to gain increased traffic to your blog.


14) The Permutator 1.0.1
Pay per click (PPC) advertising can be expensive. To save money, experts develop large keyword phrase lists that few competitors are bidding on. The Permutator helps create these lists in just minutes. Great for use with Google Adwords and Yahoo!

15) 007 Link Exchange Easy 2.21
Link Exchange Easy: Find, suggest, add and exchange cool reciprocal links to improve your web site link popularity and google page rank. Find cool links by keywords and backlinks by site. Find backlinks to all the top ranking sites by keywords.

16) RSS Content Generator Professional 3.15.58
RSS Content Generator is a comprehensive website generator from free RSS feeds (news, press releases and articles) to boost up your search engine rankings or make money with Google AdSense or another advertising program.

17) SEO Altimeter 2.1
Control the pulse of your website by measuring such crucial web ranking parameters as: Google PageRank, Alexa Traffic Rank, Link Popularity, Site Saturation and others. Multiple URLs is supported. Keeps history.

18) Blog Planter 1.0
An easy to use blog submission software tool used to help distribute your blogs to blog directories. Find niche blog categories within blog directories that accept fast blog inclusions.

19) Get-all-links 1.0
PageRank provides search engine optimization tools to check search engine ranking and tips on increasing Web traffic. Includes links to news on specific search engines

20) CommuniMail Newsletter Script 1.2.2
SibSoft CommuniMail is a Mailing List Manager and Newsletter Script with bounce back and WYSIWYG editor. For Linux and Windows servers, mySQL and flat file (CSV) database support. Free install by professional admin.


21) WTM Register Maker / EXE Stealth 3.0
Manage your serials for your shareware.Protect your exe files against cracking with crypto technologie.

22) A1 Website Analyzer 1.3.6
Website content and structure analysis tools. Find broken links and redirects. View website structure and calculated "importance" value for all pages. Details for all pages, e.g. HTML errors, page size and response time. Integrate with online tools

23) Easy Submit Website 1.0
Simple and easy to use search engine submission software.

24) Keyword Page Generator 2005.03.11 (13)
Generate search engine and visitor friendly keyword pages. Have as many keyword pages as you have keywords you want to target. Get just the visitors you want based on your targeted keywords. No longer be limited by just a few keywords.


25) Sitemap Writer Pro 4.2
Professional XML sitemap generator will help you easily create XML sitemaps. Automatically generate sitemaps in XML or compressed gzip format, keep up-to-date, edit them, upload to web server and submit to search engines that support XML sitemaps.

26) iSeekTraffic Pro 5.0
iSeekTraffic greatly simplifies the submission of your site to hundreds of thousand search engines, directories and links pages in our database. With the ability to click on the links for proof your being listed!!! Automatic Doorway Page Generator!

27) Adwords & Keywords 2.00
Adwords & Keywords is a powerful adwords and keywords analyzer for affiliate marketers or anyone who advertises on Google or Overture. It helps you instantly uncover targeted keywords with high search volume and very little competition.

28) RankDummy! 1.4
RankDummy! is a powerful tool to obtain the search engine position and page number of your web sites on the top search engines Google, Yahoo, AOL, Lycos, Altavista, Looksmart, and Inktomi.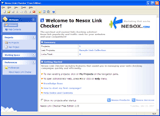 29) Nesox Link Checker Free Edition 1.11
Nesox Link Checker is a professional tool for link validation and PageRank check for Windows.

30) Directory Dominator 1.0
An easy to use directory submission software tool used to help build one way links to your website. Find niche categories within directories that accept fast website inclusions.